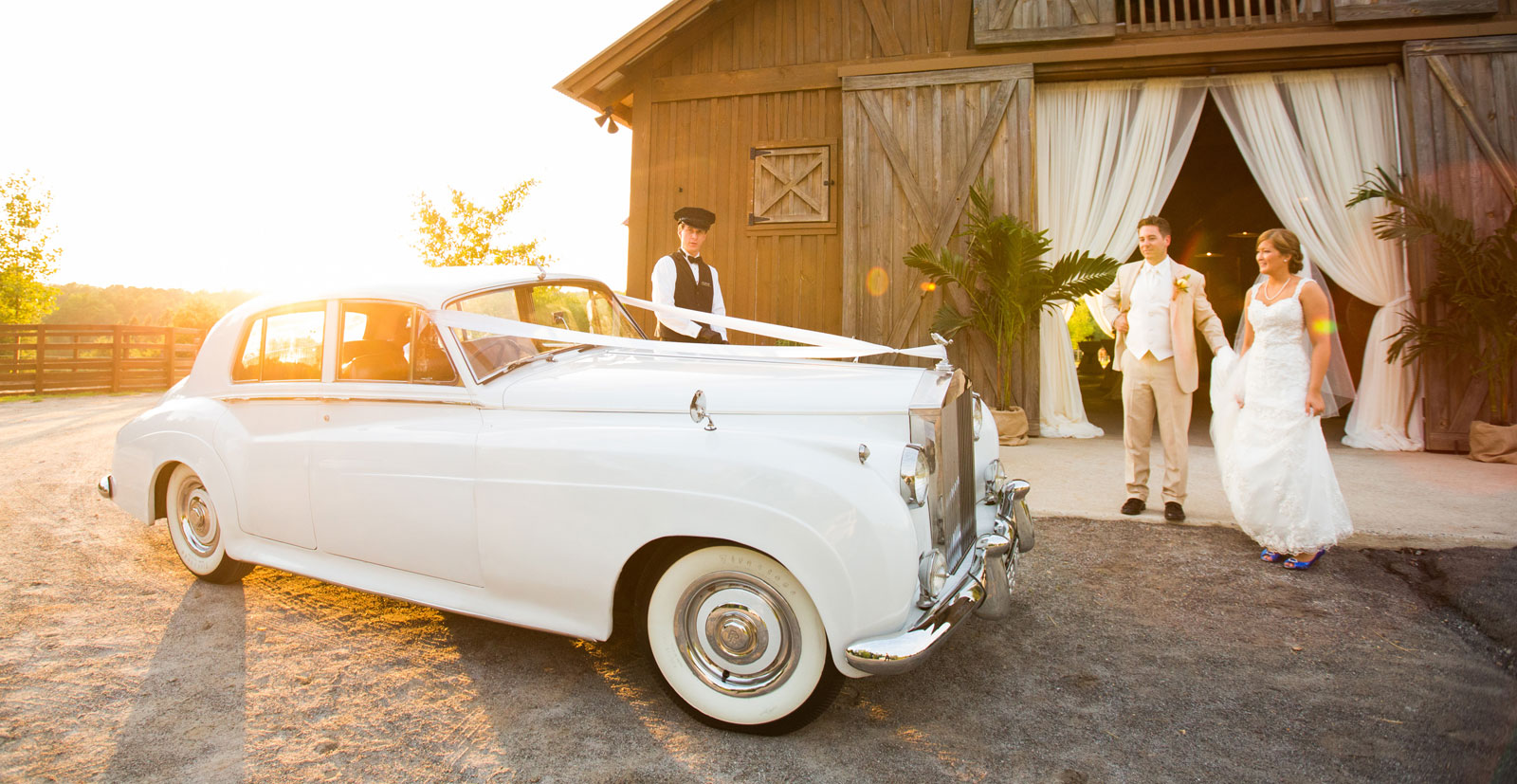 At Coats Classic Cars, one of our many goals is to pleasantly surprise you.
We begin by offering a quality and caliber of vehicle that exceeds your expectations of a 'limo service'. Since we are a full-time vintage limousine service - Alabama and Mississippi's only - we have time to invest in making sure everything is just right. On average, for each event that we chauffeur, we invest over 20 hours in restoration and maintenance. This effort can be seen not only in the beautiful condition of our vehicles, but in their reliability, as well. In addition, unlike a part-time hobbyist or "weekend business", all of our vehicles are properly inspected, licensed, and commercially-insured for your protection and safety.
We continue this level of attention into the art of serving you.
We invite you to step back into a time when Arriving meant being driven by your own professional, polite chauffeur -- smartly attired in a classic black tuxedo, chauffeur's cap, and driving gloves. We pride ourselves on studying the bygone methods of chauffeur etiquette, to provide a classy, authentic experience for your wedding or special occasion. In short, we are at your service.
"When my photographer asked me about going around downtown to take some nighttime romance shots, they were very happy to work with us so we could do that. James, our driver, was so nice and wanted to make sure our ride was enjoyable. He didn't just hop on the interstate, he went through some back roads so we could get a full ride out of the car." -via The Knot
While our cars make excellent fashion accessories, it is their history that drives us.
It is a history which is still being written today, and which we invite you to be a part of. We view our collection for what it truly is: a rolling museum, whose classics have created more memories over the decades than our minds will ever know. It is our honor and privilege to continue their legacy, by creating unique memories for you!
Although your investment may be a bit more than with an amateur, our clients appreciate the unmatched elegance, quality, and personal attention that defines a Coats Classic Car experience. In turn, we value clients who appreciate the extra quality that we invest. Clients who treat our classics like their own. Clients like you. And while your guests will say, "I wish we had done that for our wedding", you'll be glad you did. Especially years later, as you look back at timeless photographs that will always be in style.
"You have to have a great conclusion and this was a perfect ending! Arranged as a surprise for the bride and groom, it went perfectly and they really enjoyed the luxury ride back to the hotel. And the pictures...that car and the gorgeous bride and groom are some of our favorite photographs." -Megan and Adam, married at Vulcan Park and Museum
Professionals in the wedding, event, and entertainment industries know the best, and choose the best.
Since our fouding in 1998, we have been privileged to serve these organizations, and many of their owners, family, and staff members for their own weddings and special occasions-
Alabama Public Television
Antiques Roadshow
The Alabama Theatre
Books-A-Million, Inc.
BridgeStreet Gallery & Loft
His Excellency Cui Tiankai, Chinese Ambassador to the U.S.
Carole Crabbe Wedding Consulting
Chef Bob Catering
The Country Club of Birmingham
Def Jam Records
Deidre Downs, Miss America 2005
E.O. - Birmingham
EWTN Television
Feel The Beat Entertainment
GoPro Event Solutions
Hoover High School
Kathy G. & Company
M. Elizabeth Events
Main Street Productions
Mathews Manor
National Multiple Sclerosis Society
Rick Pennington Photography
Rucker Place
Rosewood - Pinson, Alabama
The Coach Nick Saban Family
The Sterling Castle - Shelby, Alabama
Travel Planners, Inc.
Vestavia Hills High School
WWE Wrestling
...and many others
Thank you, thank you, thank you. Can't wait to book you again.' -Chef Bob Vaningan
What do YOU have in mind? All of our services are custom-tailored to each special occasion.
Your departure will be the last memory you leave for your guests. Let's make it unforgettable!
From vintage to sporty to elegant, we have a vehicle in our fleet just for you.