Professionally-Chauffeured Vintage & Classic Cars
for Weddings, Special Events, Displays, & Photo Shoots
Throughout the Southeast, from collections in
You are viewing our Jackson, Mississippi Collection.
We can transport cars from any of our locations throughout the Southeast.
Selecting the location closest to you, above, will ensure the lowest cost.
Jackson Featured Classics
1938 Packard Twelve
Seven-Passenger Touring Limousine
Considered The American Rolls-Royce, Packards were the chariots of Presidents -- and our V-12 Limousine model is the best-of-the-best. Only 545 examples of were ever built, for the 545 most successful individuals in 1938 America. There has never been a wedding dress made that will not comfortably fit in the spacious, exquisite passenger compartment -- and as the years go on, his image will remain timeless in your photographs!
"The car added the touch of old-world elegance to a very modern-day couple. The professional driver and attention to detail was very appreciated." -Jean, via Google Reviews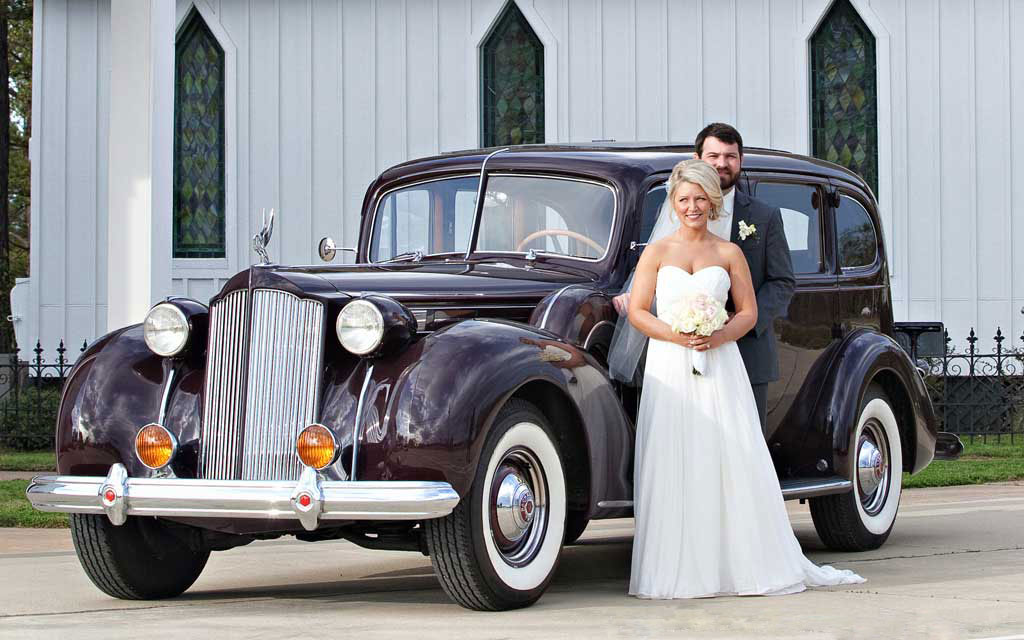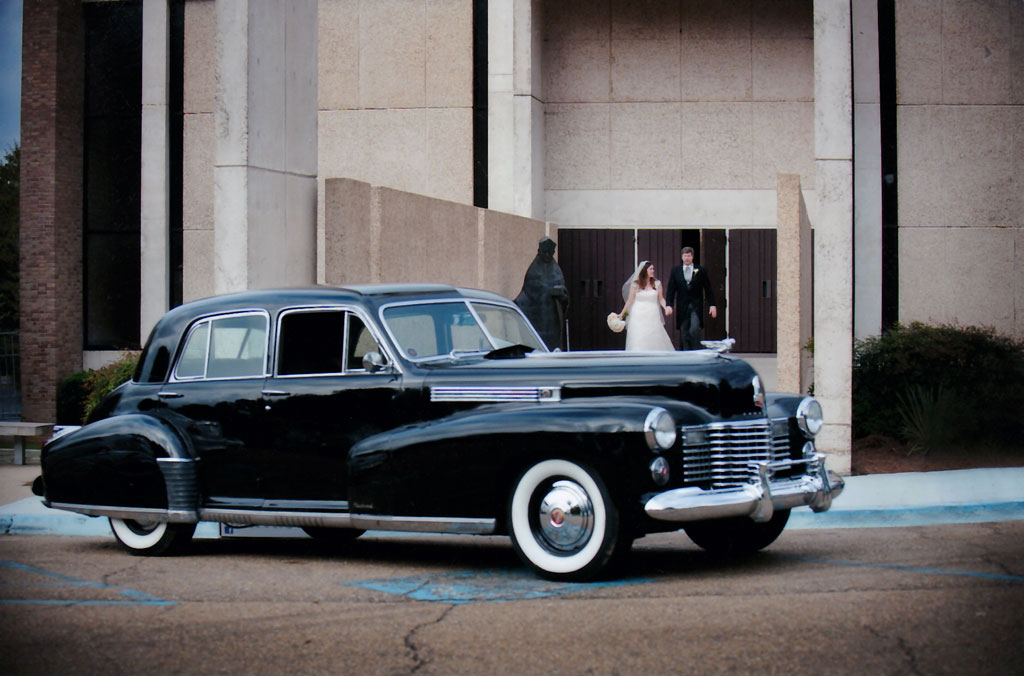 1941 Cadillac
Fleetwood Sixty-Special
There's a reason why Cadillac is often used as an adjective... and the reason just might be this black '41. A true American work of art, in museum-quality original condition. Open the door and you can almost hear the Swing music play. Her formal black paint lends a dignified elegance that makes a beautiful contrast to your white wedding gown. Also an excellent and popular choice for your parents, grandparents, or other important guests!
"They really enjoyed the luxury ride. And the pictures... that car and the gorgeous bride and groom are some of our favorite photographs." -"Mom" of Megan & Adam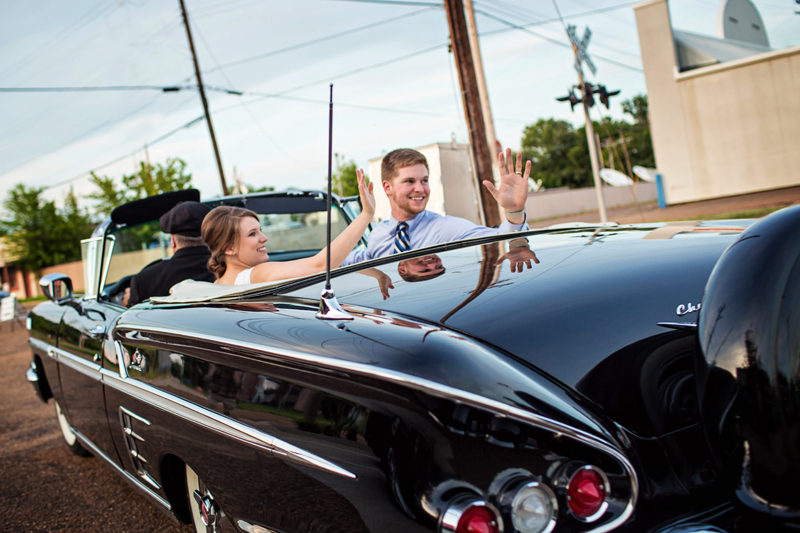 1958 Chevrolet Impala Convertible
A perfect choice for classic elegance with a sporty flair! Our Impala has been a Mississippi native since new, and has been making folks smile for special occasions since her full restoration in 2004. In addition to chauffeuring dozens of happy couples like you, several winners of local beauty pageants and homecoming courts have been seen waving from the back seat in area parades. She can be spotted in locally-filmed movies as well.
"Coats Classic Cars was great! We loved the Chevy. They helped with a great finale to a lovely evening." -Katherine, via WeddingWire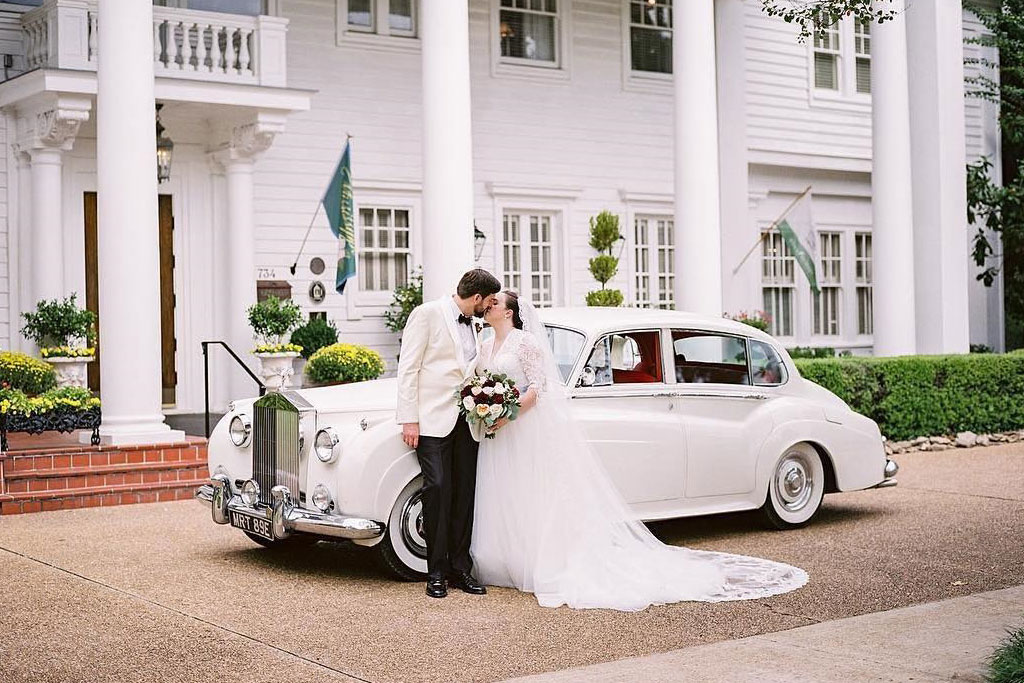 1961 Rolls-Royce Silver Cloud Limousine
Old English White (Ivory)
In a word, Silver Clouds are timeless -- a World-class touring car with beautifully-crafed lines that only Rolls-Royce can produce. Elvis Presley, John Lennon, and Tony Bennett have all been Cloud owners, along with a host of other famous folks. As a true limousine model, her luxurious interior is complete with a division window for privacy -- and air-conditioned for your comfort.
Arrived timely, looked great, and very professional! Wonderful experience!" -Caroline, via The Knot
Novelty Cars - For Something Even More Unique