Professionally-Chauffeured Vintage & Classic Cars
for Weddings, Special Occasions, Displays, & Photo Shoots
Throughout the Southeast, from collections in
You are viewing our Main Collection in Birmingham, Alabama.
We can transport cars from any of our locations, throughout the Southeast.
Selecting the location closest to you, above, will ensure the lowest cost.
Birmingham Featured Classics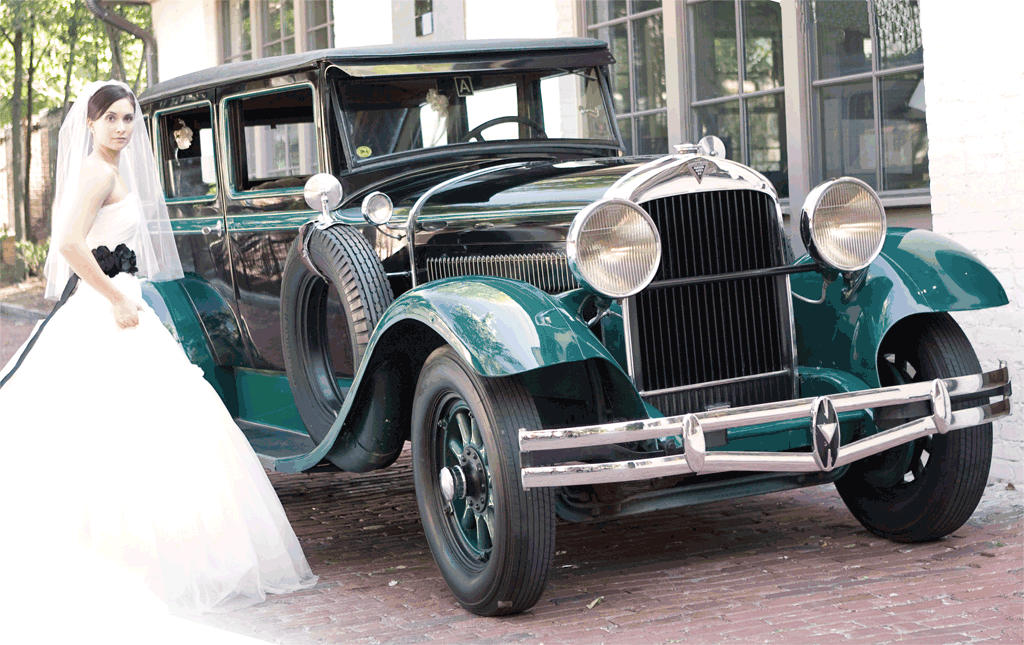 1929 Hudson Super Six
Imagine it's 1929. Perhaps you're going out to a speakeasy, or a silent film at the Alabama. You'll be chauffeured there in your brand-new Hudson Super Six, the pinnacle of American motoring. Who is that arriving? A movie star? A captain of industry?
Fast forward... It's your wedding day. The Roaring Twenties are over, but the crowd's reaction is still the same. While your guests will say, "I wish we had done that for our wedding", you'll be glad you did...
"It was the perfect exit for our wedding, and our driver was sweet enough to take us the long way so we could drag out our special night that much more." -Kelly & Alex, married at St. Francis Xavier in Birmingham, AL
Rolls-Royce Silver Wraith
Freestone & Webb Touring Limousine
Rolls-Royce. More than just a name or a brand -- a legend. To say that something is the "Rolls-Royce" of anything, means that there is simply nothing better. We proudly introduce you to "Catherine", our flagship, the Rolls-Royce of Wedding Cars. Only eleven were ever made of her type, and she's serial number one. For a day, we invite you to step into the owner's seat as one of the eleven wealthiest, most sophisticated individuals in the world. Meet your new Rolls-Royce limousine. No one else has anything like it.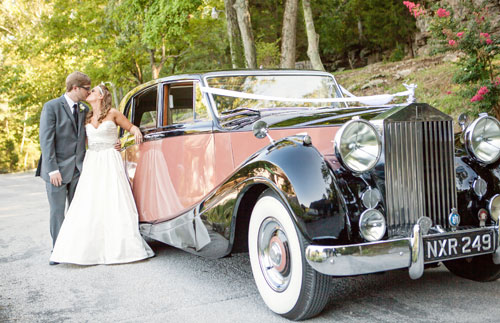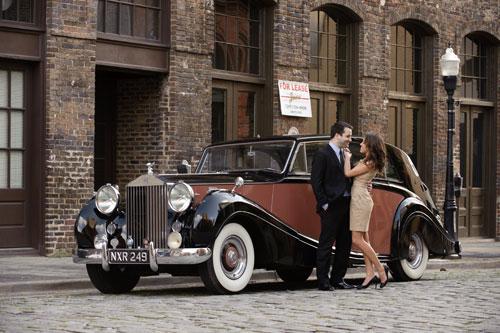 There, you'll find that since she's a true limousine model, her opulent light gray leather interior is much more spacious and comfortable than a regular sedan, complete with a division window for privacy -- and an opening rear roof. Stand up and wave to your crowd! Outside, you'll notice that her unique and elegant two-tone paint scheme is a perfect contrasting backdrop for your dark tuxedo and white wedding gown.
"We love Coats Classic Cars! We had the most amazing Rolls-Royce take us away as husband & wife :) The car was beautiful and our driver was so nice! Thank you!" -Amelia & Jeff, married at Canterbury UMC in Mountain Brook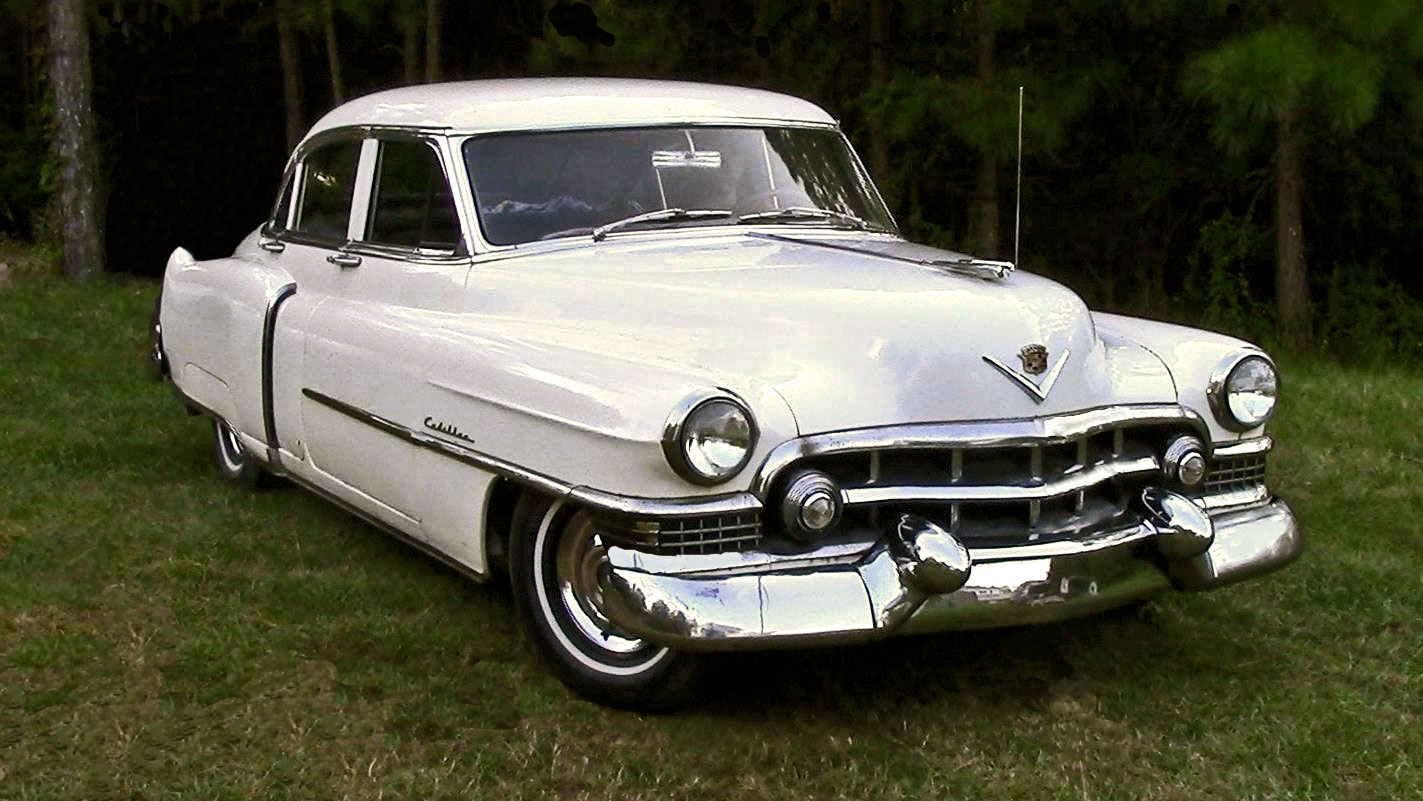 1951 Cadillac Series 62
Is there anything more classy than a classic Cadillac? Unlike the outlandish finned Cadillacs of just a few years later, the 1940s and early 1950s models have a beautiful, classic style which is not tethered to any particular era -- they are instead a timeless design which is still a perfect choice for today's photos. Lucille's lovely Cream paint is a perfect wedding choice, and her spacious interior invites you to stretch out and take a Ride Back In Time.
"Lucille" is a new addition to the Coats Classic Cars fleet, and is currently being refreshed in our in-house restoration shop. She is projected to be available in Summer 2018. Watch this space!
1952 Buick Eight Special Deluxe
Formal but fun, and consistently one of our most popular cars, "Jack" is an automotive embodiment of Vintage Americana. Sporting a body style introduced in 1949, classic venues like The Sonnet House, Rucker Place, and American Village are excellent backdrops for you to capture his classic American style. The elegant, original black paint and chrome details make a stunning backdrop for a white wedding gown!
"Our guests also loved being able to take pictures with the car. I loved the looks/stares and honks we got from other cars while riding to the hotel. "Jack" is quite handsome." -Paige, married at Rucker Place in Birmingham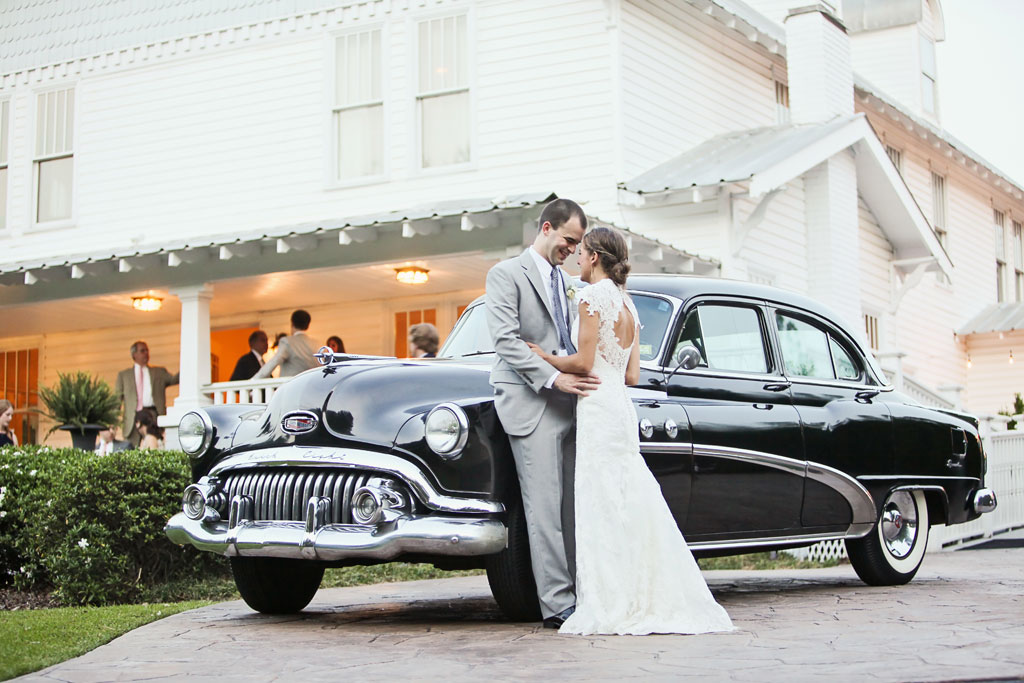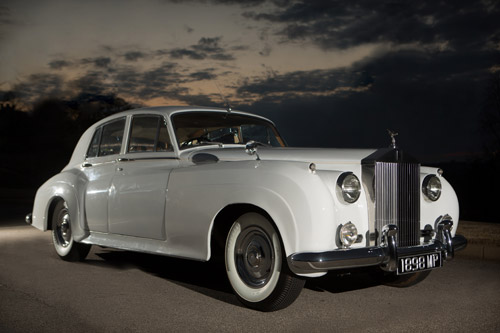 1956 Rolls-Royce Silver Cloud
Porcelain White
In a word, Silver Clouds are timeless -- a World-class touring car with beautifully-crafed lines that only Rolls-Royce can produce. Elvis Presley, John Lennon, and Tony Bennett have all been Cloud owners, along with a host of other famous folks. For a day, we invite you to ride in that same timeless style. "Elizabeth" features a lovely air-conditioned Tan leather interior, and is right-hand drive for the full effect!
"The car was beautiful. The driver was polite and gracious. The car showed up early for photos!" -Elaine, via WeddingWire
1959 Jaguar Mk.IX Saloon
Old English White (Ivory)
When HM Queen Elizabeth, The Queen Mother selected a new personal car, she chose a sister car to "Caroline". Why? Could she not have had a Rolls-Royce, or a Bentley? Or anything else she wanted? Sure. But she knew that these beautiful Jaguars have a quality all their own: The perfect marriage of formal English luxury, with a swift, sporty feel. Her cabin is appointed in Rose Red leather and adorned with beautiful walnut trim, and is topped off by a factory sunroof. It's not being carried off into the sunset on a white horse.... it's better.
"We had "Caroline" as our car, and boy was she a beauty! We felt like royalty leaving our wedding. It was a touch well worth doing." -Ginny, married at The Sonnet House in Leeds, AL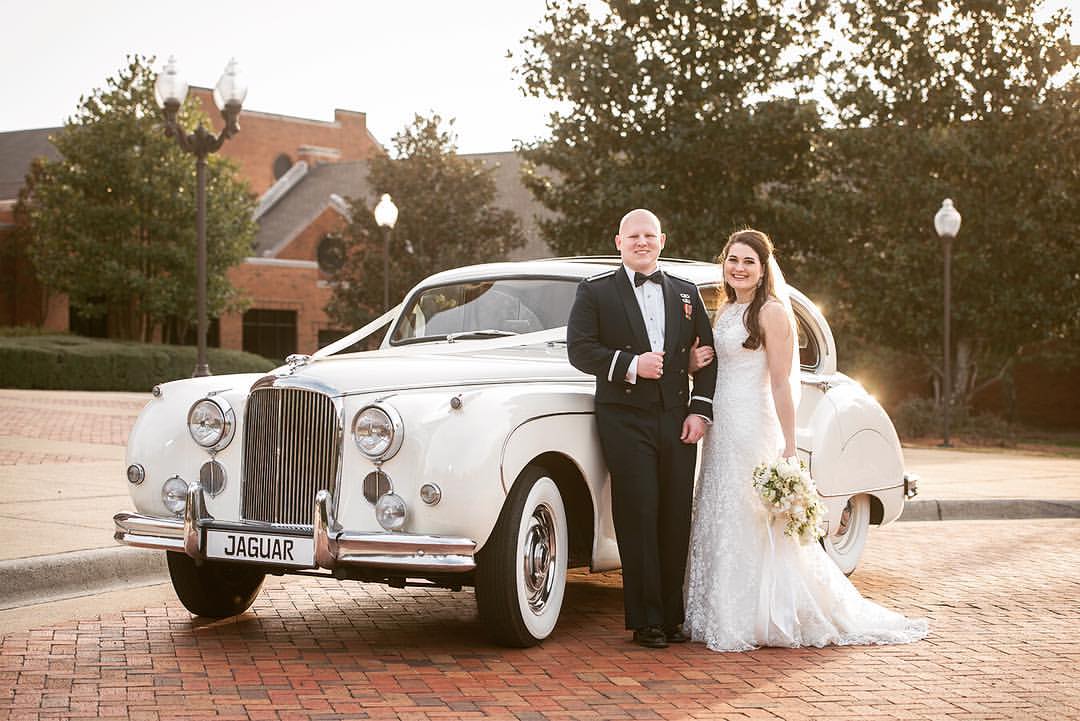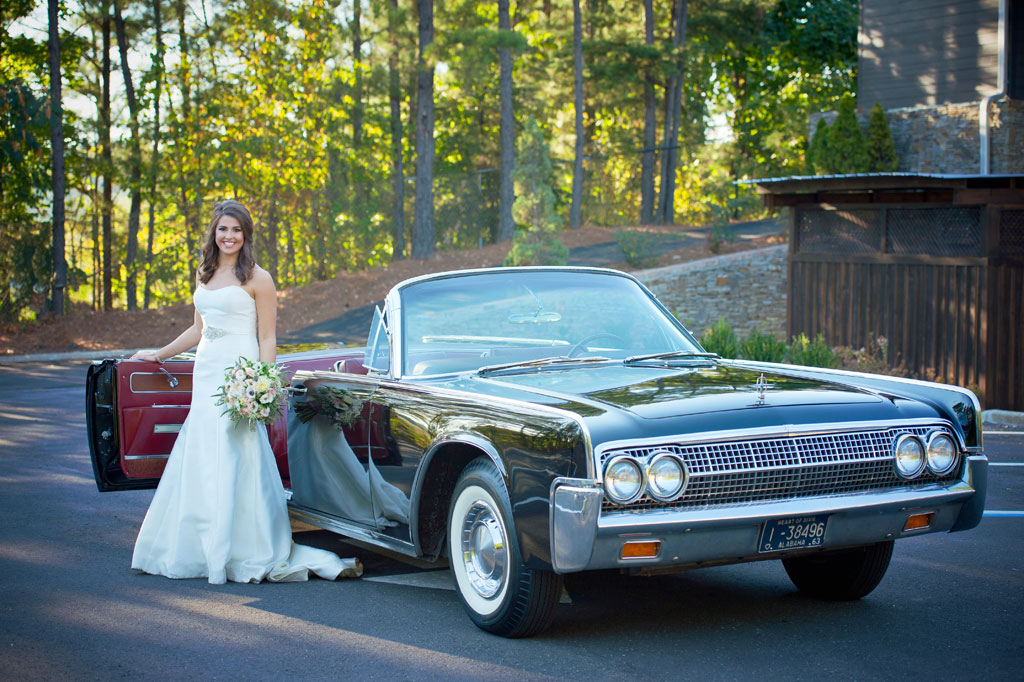 1963 Lincoln Continental Convertible
For your wedding or special occasion, not just any convertible will do. Sporty is great -- but it must also be Elegant. It must know quiet, sophisticated luxury at your ceremony --- and also able to let its hair down at your reception. Nothing does that better than the iconic Lincoln Continental Convertible. Unlike most convertibles, "Elwood" features four doors-- making for comfortable entry & exit in your wedding gown. Ride from your ceremony to reception with the top up in Elwood's plush air-conditioned leather interior, as luxurious as any Rolls-Royce. Create timeless images showing off the pop of your dress against the deep ebony paint. Depart your reception in fun, top-down convertible style!
"...The perfect car for bride and groom. Took them from church, to reception, to hotel. Will definitely use them again!" -via WeddingWire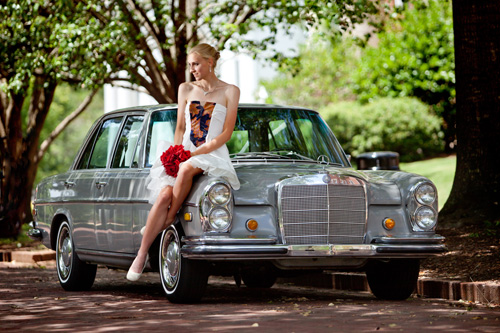 1968 Mercedes-Benz S-Class
Classically designed, beautifully elegant, and just a bit... subtle. Timeless and dignified. "Eugen" is a car for those who know what they want, and where they are going. Not only is he a wonderful choice for your timeless and sophisticated wedding, but he is also a perfect option as a secondary car for your parents or other important guests.
"Our guests loved taking pictures by the car out in front of our reception venue. And the pictures of us by our car were amazing!" -Lauren and Scott, married at The Avon Theatre in Birmingham
Novelty Cars - For Something Even More Unique